Hey-o!
Hey Family, Friends, and Everyone!
I wanted to post a bit today about the power of prayer.
First off, what is prayer and why is it so important?
Prayer is a two-way communication between us and our Father in Heaven. Prayer is important as we are able to receive answers to our questions, peace and comfort in times of distress, and guidance when we are lost in this world.
Being able to pray to my Father in Heaven has brought me such joy and peace. It has to be such an act of humility to get on your knees and pray.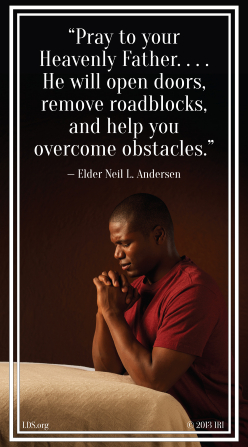 There is a
quote
that I love about what prayer can do for us. There is so, so, so much that God wants to give us. And all we have to do is ASK! That's it! when we ask in faith, then He will answer.
I have seen so many answers to prayers. So many little miracles. I know and I testify that God knows each of us. He knows YOU by name! And when you turn to Him in faith, He will be by your side to guide and direct you.
He will give you the strength you need everyday.