Hey Y'all!!
I'm so sorry that it has been forever since I have written a blog post!! Life has been crazy! Especially this last weekend with the 186th annual General Conference!
This past conference was AMAZING!!!
There were so many wonderful talks and the Spirit was so strong, especially as we were able to listen to the words of our Prophet; Thomas S. Monson.
President Monson shared some of His thoughts about choices and how our choices affect us. I just wanted to share some of His and some of my thoughts as well.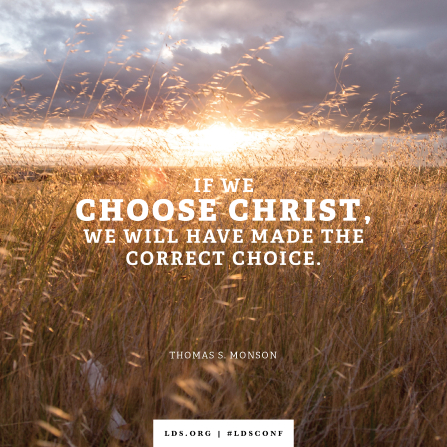 He shared about how our choices affect us now, and in the life to come; he said, "
May we choose to build up within ourselves a great and powerful faith which will be our most effective defense against the designs of the adversary—a real faith, the kind of faith which will sustain us and will bolster our desire to choose the right. Without such faith, we go nowhere. With it, we can accomplish our goals."
We have to choose faith in order to grow. We have to choose faith in order to receive the blessings an miracles we are seeking.
FAITH needs to be the lead out in any choice we make!!
In my life I have been able to see how faith in decision making has changed me. As I was preparing to attend university. I had already made the decision about what my major would be and what classes I would be taking in accordance with that.
As I went to the university for a day and toured around and talked with professors I had the impression that I needed to change my major. I was so angry. I had already gone through everything, picked classes, and made a plan. Now God was telling me to change it?
For once in my life I listened. And I made the choice to change my major.
The results and blessings I have received since have been
innumerable
. It has been amazing for me to see how much God is willing to bless me when I am willing to listen to Him and make the choice to follow.
All God is asking is for us to put our faith in Him and to trust that He knows better! As we do so we will be blessed beyond compare. And our faith in Him will increase!