Hi there!!! :)
So the last couple of weeks, my companion and I have had some interesting encounters with several individuals. Many times over this scripture has come into my mind;
1 Peter 3:15
"

15

But

sanctify

the

Lord

God

in

your

hearts:

and

be

ready

always

to

give

an

answer

to

every

man

that

asketh

you

a

reason

of

the

hope

that

is

in

you

with

meekness

and

fear

:"
This scripture has come to mean a lot to me. Especially as I am sharing the gospel each and every day.
We have to be ready and prepared to show and share what we believe. One night while my companion and I were walking a man stopped us, to talk, which rarely happens! It was a miracle! We were really able to help him and brighten his day. When we called and talked with him a couple of days later, he said that things had really changed around for him.
Well, a HUGE miracle occurred! Last night again while we were walking around and talking with people, we met the same man! He said something very touching, "If you ever wonder if what you do matters or changes people, know that it helped to change me."
In the smallest of ways, with the simplest of testimonies we are able to stand as witnesses and disciples of our Saviour, Jesus Christ and help lift our brothers and sisters around us.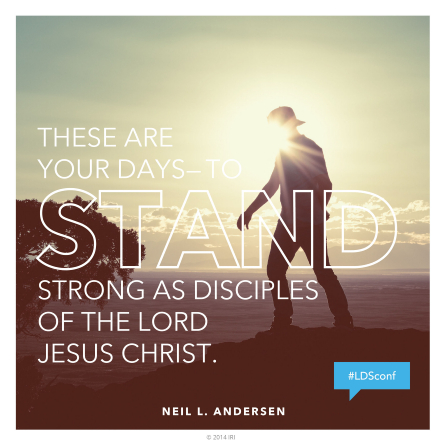 It is your turn to take a stand and to give the reason for your hope.